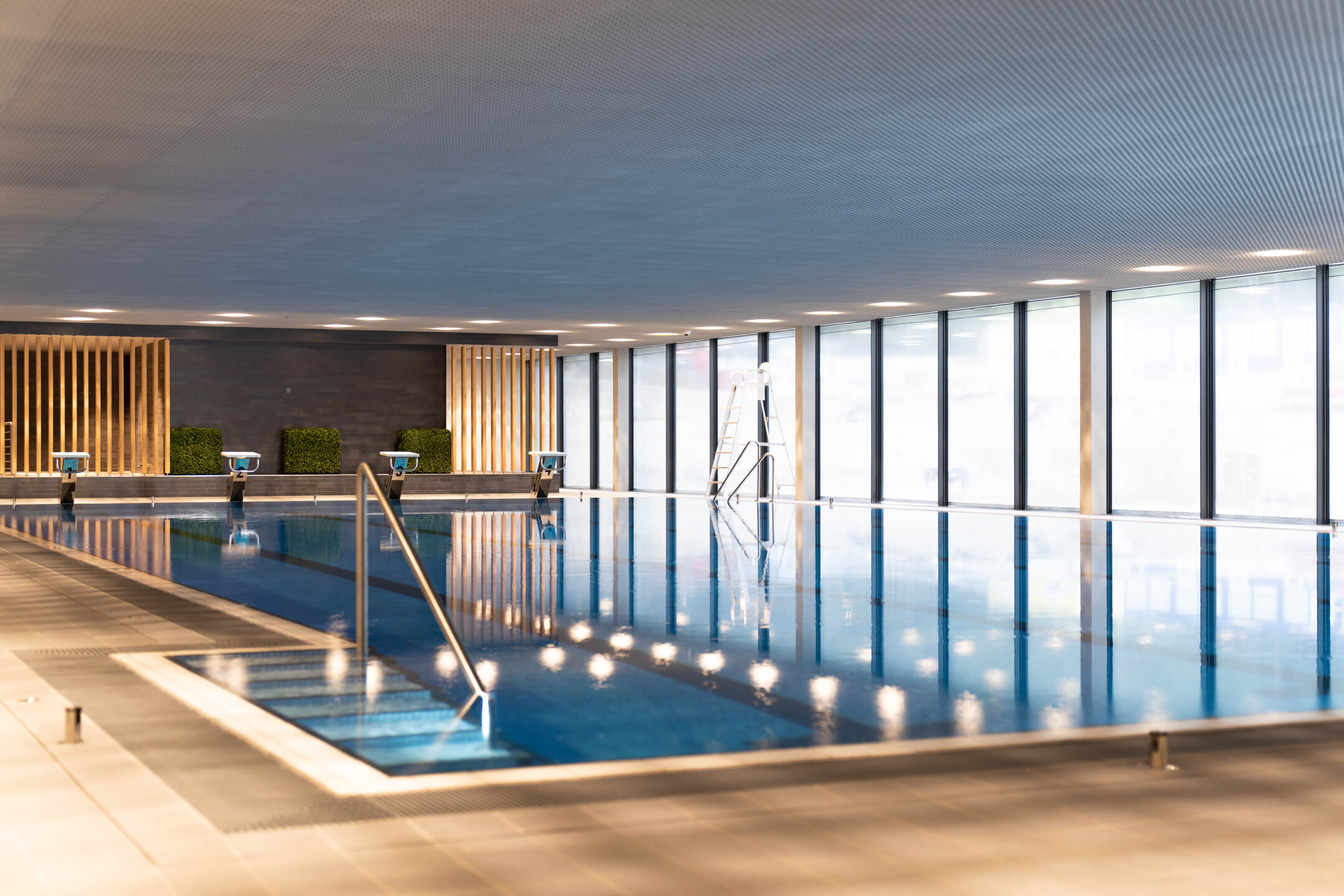 EHL Sports Center
Welcome to the EHL Sports Center, our magnificent new center offering a wide range of sports activities within the prestigious EHL Hospitality Business School.
List of facilities
Sports Reception

Fitness Center

Pool

Sports halls

Studio for classes

Multisport pitch

Beach volleyball

Treatment room

Tennis

Padel
Our reception welcomes you and informs you about all the sports activities offered at EHL.

The reception also features a small shop with sports drinks and snacks, and equipment and clothes available for sale.

Sports reception opening hours :

Monday - Friday : 08 am to 6 pm
Saturday : 09 am to 4 pm
Our gym encompasses an area of 400m2 where you can do different types of training:
Cardio Zone
22 machines for cardiovascular workouts are available to you, including treadmills and air runners, stationary bikes, elliptical bikes, stair masters and rowing machines so you can vary your endurance and interval training.
Weight lifting Zone
This zone offers a wide range of guided and plate-loaded machines and several stations with pulleys.
Functional Zone
Our gym has a large functional cage, a squat and deadlift cage, and many smaller pieces of equipment for all of your training.
Free Weight Zone
There are many free weights, dumbbells and bars so you can increase your strength and really push yourself.
The pool area is located in Residence 2
Pool
The pool is 25m long by 11m and 2m10 deep, which means that each of the four lanes is 2m50 wide. There are three ladders and stairs that make it easy for people with mobility issues to get into the water.
We offer many different activities such as free swim, swim lessons and aqua fitness classes, and water polo.
Recovery Zone
Take advantage of some downtime in our recovery area where you can access the recovery pool, three saunas with a shower and a rest area that has a view of the outside.
Our double gymnasium has a surface area of some 1,300m2 and it even has stands for EHL fans to cheer on their favorite team:
Basketball
Volleyball
Badminton
Handball
Table tennis
Floorball
Futsal


Dimensions: 35x28m (one big space) or 16x28m (two smaller spaces)


It is possible to separate the floor into two distinct spaces by using the moveable wall. There is also a sound system and multisport scoreboard.
Studio 1
Studio 1 offers a space of 113m2 for classes on themes like strength training (body pump), cardio (spinning) and wellness (yoga).
Studio 2
Studio 2 offers a 67m2 space dedicated to e-sports .
We have an outdoor multisport field of 25m x 14m allowing the practice of different sports activities such as ball sports or games and physical training.
Our beach volleyball court measures 25m x 14m and allows you to play barefoot in the sand.
Our 8m2 treatment room will accommodate various practitioners such as osteopaths and physiotherapists. It is possible to rent this room by the hour, according to the rates in effect on the facilities rental page.
Two tennis courts are currently under construction and will be available in 2023.
Two padel courts are currently under construction and will be available in 2023.
Our Sports Stores
F&B Sales
Need an energy boost before or after your workout? Protein, energy drinks, protein bars and other snacks and drinks are available for sale.
Sale of sports equipment
Did you forget something? We offer a range of sports equipment and clothes for sale.
Collaboration